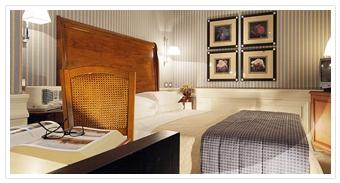 Refinement, an exclusive style, attentive and accurate service, attention to every detail, sophisticated materials perfectly used in order to create private, elegant and colourful atmospheres with delicate lights and colours: this is the Hotel Stendhal, a structure with new solutions of furniture and design, which enjoys a unique situation among the centres of the power of the capital – Palazzo Chigi and the Camera dei Deputati, as well as the Quirinale – the most beautiful shopping streets and the most famous monuments that make Rome the big and unique Eternal City.



The use of the materials creates elegant and refined effects, unforgettable also for those who don't notice this sort of thing: natural stone, marble in the lining, stone in the reception, refined boiseries in the tea room, in the reading room and internet point. Here all is used with care, with the best woods, paintings and beautiful sculptures. Don't be afraid: you can live in a very natural way our refined and sophisticated ambiences, because the structure is characterized by a sober elegance.
This is what you can find in the private ambience of your room, where the same care and attention to the detail is guaranteed, in order to give you an attentive and comfortable welcome, for every kind of travel that here become a unique and unforgettable experience.

For business men the meeting room of the hotel, always in stone and precious wood, offers all the modern technologies in order to meet your requirements. Moreover, we assure you the Wi-Fi internet connection in all the common areas.
In the morning, a rich buffet breakfast is the best way to start your day, while for your relaxing moments; the lounge library is the perfect place, where you can sip an aperitif in a tranquil ambience, being immersed in the reading or surfing the net.